– building agile organizations from first principles –
Is there a set of principles, such that each has the potential of a game changing impact on 'engagement', 'operational effectiveness' and 'success' in any high-tech product developing organization? And, if so, what might they be?
Do you sometimes have a feeling that …
… too much is going on and it takes way too long to complete … if ever?
… you are not working on the best possible ideas and it takes too long to find out?
… the working environment and culture is not always with you, sometimes even against you?
In fact, most large tech organizations suffer from overload, over-reliance on own ideas bundled with bad execution – a lethal cocktail for most.
If you have that feeling, if you are in that situation, then, this is for you!
How do we deal with this situation? What are the do's and don'ts in advancing your odds for a more sustainable work environment and more predictable outcomes?
===
Available as presentation
In an involving and interactive way you are invited on a journey of discovery to explore first why more agility may be desirable to optimally utilize your innovation opportunities. We take a deep dive into the dark side of success and look at all the times when things do not play out as expected.  Then we look into reasons why building on your strong beliefs is a highly desirable way to think about how you set yourself up at work. Can you change your luck by choosing to believe in something? Does it at all make sense to think like this? Concluding with an open discussions about what such beliefs could be. If all of this make sense, what should we choose to believe in?
Delivery times range from 30 minutes in presentation mode to 90 minutes including interactive work shopping. Can be tailored to your situation and special wishes.
Ideal for provoking your management team, for team building or for something different at your next team event
Find the latest presentation material under #Downloads (CLICK HERE!)
===
ELEVEN+7+1+… GAME CHANGING BELIEFS
– for the product development organization to unleash it's full potential (version 1.201, 29-May-2017)
The OPPORTUNITY SPACE is huge – There is always a better way – NEVER STOP SEARCHING
Know and be who you are (IDENTITY; AUTHENTICITY) … be relentless (STRATEGY/MAKE CHOICES/ALIGNMENT) in what you are aiming for (VISION) [Authenticity: 'be your product'; focus & alignment in execution]
PEOPLE make the difference; attract, build and keep TALENT
Your organization  must enable everyone to EXPERIMENT;

LEARN

, DEVELOP and also in all other ways ACT INTELLIGENTLY [keep insisting on a holistic view – with all activities visible and comparable]
Understand what VALUE is and where it comes from (BUSINESS MODEL; … and yes, CUSTOMER!)
Optimize the FLOW OF VALUE; PRODUCTIVITY over efficiency [explicitly balance load to capacity]
The worst COST is what you can't or couldn't do, because of what you did
Accept that MOST IDEAS ARE BAD
Accept that MOST PROJECTS ARE CHAOTIC; THE WORLD IS UNPREDICTABLE; and RISK and UNCERTAINTY are in everything you do – or don't do
SMALL, FAST, SIMPLE beat large, slow, complex any day [SPEED; LOAD]
ENGAGE with the world – SHARE what you know and don't know; STEAL with pride
Supporting principles/additional insights
Keep ACCOUNTABILITY crystal clear – in practice accountability is indivisible; but can be delegated; Transparency through delivery
Every product is unique; keep ONE MIND behind your design/expression/intent/USPs; a product [software] doesn't care who makes it and whether something is an error, a CR or a new feature [Outsourcing]
Don't bundle complexity/RISK
Every project is unique and typically has a set of UNIQUE DRIVERS; understanding the unique drivers is the key to success; sequence matters more than you think
Never underestimate the power of real products; shy away from internal stuff; make products – not politics!
Architecture enables 'freedom through structure'; good architecture means less refactoring [the job of your architect is to avoid refactoring]
Make policy, not process – keep accountability heavy and process light; what – not how
Give up the illusion of control applied to complex knowledge work – focus on making things (self)controllable through policy and interaction – still retain command of the situation
Make sure first time is not first time; anchor in the future
STRUCTURE DRIVES BEHAVIOR (the work you do, the way you organize, your architecture, your code and release mgmt, … the real juicy thing is that BEHAVIOR EXTEND TO AND DEFINES STRUCTURE … aka all the things you can't do are like physical walls, 'culture is defined by what you cannot talk about, etc)
There is an overhead of DOING MORE THAN

ONE THING

(sometimes two is optimal, because wait-time on one exceeds waste time of introducing another
… need something about

FEEDBACK LOOPS

… 🙂
We see and hear what we expect to see and hear
Pareto: 20% of the activity generates 80% of the benefits
Dana Meadows: 10% of the model brings 90% of the insight … aka keep it simple
One thing at a time (single piece flow)
Stephen Parry: Change the climate and things will follow
Learn to make choices, not decisions (Stephen Parry)
Try follow the work (me – inspired by 'try follow the money' from crime movies)
You cannot buy fitness (Tim O'Connor via Martin Tate)
Manage at the speed you can afford to lose (Mike Butler, Nokia)
Never faster than your guardian angel can fly
If you don't know what you are doing, don't do it on a larger scale (Tom Gib)
Even the simplest thing become chaotic when you add people (Sven Bertelsen)
Accept that agile is multi faceted and an ever evolving dream of something better
Keep the 'top' of your organization small to enable collaboration and inclusion
Morten's top 3
Without support of your organization everything gets more difficult – and not fun in the first place! (ACCOUNTABILITY)
Without the right PEOPLE – ready, willing and able for task at hand – things just get too complicated!
Nothing can prevent smart people from doing what they want. Create an environment where everyone has the freedom to perform and opportunity to contribute! (STRUCTURE DRIVES BEHAVIOR)
This web-site is in part dedicated to explore these beliefs – what they mean and how you can make them work for you.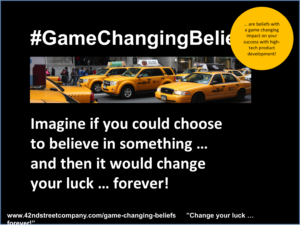 === Why?
Why 'Game Changing Beliefs'? The need for alignment to enable effective execution has never been greater. The questions are: 1) is there a set of basic principles that you should just accept in order to influence a product developing organization to become effective and successful with a higher degree of probability? 2) if so, what are they? Since the proposition is that the principles – if they exist – should be accepted I call them 'beliefs'. And, since they are believed to turn luck in your favor they are called 'game changing' – we are looking for 'game changing beliefs'.
Find the latest presentation material under #Downloads (CLICK HERE!).
=== What are your beliefs?
This is a very good exercise to do in any organization: What are our game changing beliefs? How do they work for us?
Another thing to try out: In any organization that doesn't make sense there is a black market for common sense. Do you know what I mean? What does this market look like in your organization?
=== Public presentations
'… he really nailed it'
(feedback from conference, Oct-2014)
XP, May 2022 (Link)
Guest Lectures, ITU, 2016, 2017, 2022
Strategy Execution Forum, Amsterdam, October 2018
Team session, 2018 (Private company)
InfoQ, November 2017 (Interview)
AgileByExample, Warsaw, October 2017 (Video – in English)
Test EXPO, Copenhagen, August 2017 (Video – in Danish, access restricted)
GilbFest, London, June 2017
Nordic Project Zone, Copenhagen, May 2017
Lead the Way, Aarhus '16, November 2016
London Agile Discussion Group, April 2016
Nordic Project Zone, November 2015
Tech Talk, Sony Mobile, September 2015
XP, May 2015
DSTB, November 2014
GOTO Night, October 2014
#CoDeCph, October 2014
EuroSPI, June 2014
XP, May 2014
MasterMind, May 2014
Tecpoint, February 2014
(+ closed audience presetantions)
About the presentation: How can you create an organization where succeeding with Agile is possible? Are there things you could choose to believe in, that would actually push your luck in a favorable direction? Does it make sense to think like this? And if so, what should you then choose to believe in? This interactive talk argues in favor of this and offers practical examples of what such beliefs could be.
… it was really nice and inspirational presentation 🙂
(Feedback, Mar-2017)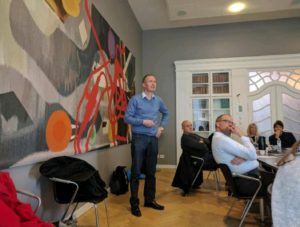 '… great with someone who is really into the topic and who constantly encourages dialogue'
(Feedback, May-2017)