What are the hot topics in Agile right now?
Earlier this year we discussed in Tecpoint (@danishtecpoint) and agreed on three trends in agile. These I believe are still valid
Agile is spreading – up and out
Tools are challenging
Search for meaning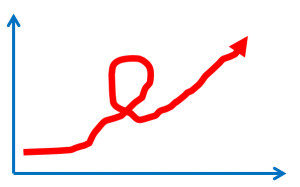 From initially having been a movement in software development teams, agile today is spreading to other areas of knowledge work and moving up in the organization. Larger and larger organizations are taking on agile, creating also a need for understanding agile at scale.
Agile makes you go faster – faster than the environments can cope with. Both hard and soft obstacles – impediments – need to be overcome. Often tools – infrastructure – mean really hard obstacles. Backlog tools are mainstream … but are they really offering the support needed? Where the hardest issues are in many organizations is in the area of code management. This is a super hot topic at the moment. Just ask the 200 participants at #codecph this week.
Scrum is by many considered synonymous with agile. The challenge is that Scrum is fundamentally a bunch of ritualistic practices, that were never meant to scale. More and more people and organizations – not only because of this – are searching for the meaning and for a deeper understanding of the underlying principles. Why is agile working so well when it's working well? And how can we make it work for us in our context? The search for meaning have lead many to look deeper at lean practices.
One additional aspect of this is the complex situation for many knowledge workers. Daniel Pink (@danielpink) says that what drives us is purpose, autonomy and mastery. Money is not on the list. Each and every knowledge worker has a challenges to work with the organization to find the optimal working environment – a process which is often not completed to perfection. This leads to stress, frustration, … Agile is a step in the right direction for most knowledge workers. This could be why the aspiration to become more agile for many knowledge workers probably equivocates the the wish for a more sustainable (@djaa_dja) work environment.
This week I also attended a CFIR/IFFI/INFINIT  (in Danish) network meeting and asked 'what are the hot topics in agile at the moment' – three more topics came up
The need for speed
The connection to the business
Making contracts
The need for speed is everywhere – and has been on the list for a long time. This is probably in many ways why more and more organizations are looking to agile – more than  the other way around. Similar there us an increasing need for increasing efficiency, to retain the competitiveness in an increasingly competitive business environment.
The connection to the business is the question of creating value. A question easy to ask, but where many organizations struggle to find tangible and operational answers to go beyond the prevailing 'cook-it-before-you-know-if-they-will-eat-it' approach? For example, in application development 'Feauturitis' (@janbosch) is the decease that cause appr half of all features developed to never be used. 'Delivering value' is in the theme for XP2015 (@xpconf) – clearly a hot topic.
The dilemma with traditional contracts is that once they are signed they favor a 'conflict view' rather than a collaboration mode. From fixed time/price/material/everything the world is now moving towards risk sharing. Deep within this topic is also the question of how you deal with the UNKNOWN-UNKNOWN. Implementing new IT systems is a complex intellectual exercise – you learn a lot while you do it. New learnings are often synonymous with something you overlooked in the requirements or contract – VERY BAD in the old world; VERY GOOD in the new world. 
In summary
… competitiveness is increasingly important. David Anderson (@djaa_dja) calls this 'survivability'. The need for speed, the need for efficiency, the need for constantly delivering value.  These are the business trends driving agile.
… from the agile perspective, the trends are that 1) agile is spreading, that 2) tools are challenging, that 3) we are searching for meaning beyond the initial rituals and in a quest for a more sustainable work environment, and the 4) need for building a strong connection to the business and form agreements that supports experimenting and learning while delivering value.
On 11-nov we will meet in Tecpoint under the topic 'Research in Agile (in Danish)'. One of the topics we will debate is what the current trends in Agile are. These notes are my reflections in preparation for this discussion. All comments welcome.
@mortenelvang
#TrendsInAgile
(Added 'contracts' on 03-Nov)
=== More additions
. Big companies increasingly act as if they were small – and startups …
. In mechatronics companies overspec HW and innovate on SW
. The size of 'what is' is rapidly increasing over the size of 'what is being released' in terms of IT infrastructure and integrated systems. In SW development the same trend is driven by the uptake of continuous integration
=== Tecpoint, Research in Agile, 11-Nov-2014 (additions)
. Enormous unexploited potential for driving improvements by increasing agility – or balancing agility to pace of business
. Supporting innovation with agile
. Requirements to the context/organization for enabling agile
. Improving starting conditions for new entrants to agile – you can learn from those already doing it